Welcome to my bridge page!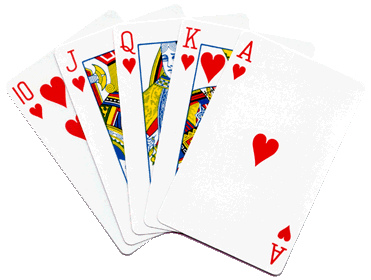 Bridge is my favorite hobby and one of the most intellectually stimulating games ever. I have been playing bridge ever since I learned in 1995. I have only been playing seriously for the last few years. I am currently an ACBL bronze life master and a HKCBA bronze master. I don't play much junior bridge here in the US, but I am a representative of the Hong Kong Junior Team.
My proudest bridge accomplishments so far:
Winning the 2002 Pacific Asian Bridge Federation Junior Teams Championship by a wide margin (36 VPs) representing Hong Kong. We now aim for the 2003 World Junior Championships.
Placing 3rd in the 2002 Pacific Asian Bridge Federation Open Pairs Championship, playing for the first time with the non-playing captain of the Japanese open team.
Having my best regional tournament yet, racking up 86 masterpoints in 5 days at the 2003 New England Summer Regional. I won two events, including the main event Flight A KOs, and came in second in the other two events I played in.
The links below are for articles of interesting hands that I come across either at the bridge table or while playing online. These hands may be hands on which I took a wildly successful action or even hands on which I failed miserably. Regardless, I hope they will be interesting for bridge enthusiasts. I will also try to post instructive articles on bidding. As many players know, bridge is always fun when I'm at the table and every hand is an adventure. Why play a system EHAA when one can play a style that's EHAA?
Bridge at the Cavendish (4/3/02)
Junior Collegiate Team Championships (4/28/02)
Just a Little Extra Chance (5/6/02)
Henry's 1NT-3C Convention (5/13/02)
Bridge Over the Summer (11/13/02)
Are All Choices Restricted? (2/27/03)